Nampa Property Management
Let us manage your Nampa rental property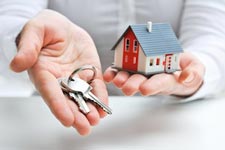 Morgan Property Management is set to increase the value of your investment, reduce your risk with our knowhow, and perhaps even provide some peace of mind in the process. Managing rental property requires considerable attention and a wide array of expertise. We have the experience and resources to achieve your rental property goals. Our rental inventory is currently about 80% single-family homes and 20% multi-family housing. Although we aren't the biggest management company in town, we operate with their efficiencies and continue to keep a high level of personal service as we grow steadily and surely.
Nampa Property Management Services
Diligent Placement
+
Property managers accept calls and inquiries regarding your home. They arrange appointments and coordinate showings of your property.
We have an impressive track record in placing quality residents. We attribute this success to our extensive marketing efforts, advanced screening process and commitment to exceptional service. We believe that one of the most important parts of professional property management is finding a quality resident for your home.
Morgan Property Management employs a quality marketing program. Most important is our reputation. We are known for quality homes and professional management practices. Promotion efforts include RE brokerage exposure, media advertising, social media, signs, our company web site, and a vast network of online media.
Overview of Marketing Resources
50+ total web sites
Yellow Pages
National Web Sites
Tenant Referrals
Professional formatted listings
Full-time Leasing Agents
Our Website & e-mail
Professional Yard Signs
Realtor Networking
Showing Evenings & Sun by Appointment
Works with Relocation Offices
After a potential resident is located we conduct an extensive screening process. This process includes credit reports, extensive criminal checks, animal licensing, reference checks and personal interviews. After acceptance, we complete negotiations, execute contracts, process documents and install the resident in the home.
Overview of Resident Screening
Investigate Credit, Criminal, Patriot Act, Sex Offender, & Eviction reports
Check References
Time tested Leases
Pre-Lease Interviews
Important Information Provided to Resident
Verify Employment & income
Move-in Inspection Documentation
Security Deposits & pet rent
Check out Rental History
Negotiate best Lease Terms
Strong Documentation
Professional Management
+
As professional property managers, we collect rents, deal with resident issues, periodically inspect the property and personally supervise the home. The manager provides an "arm's length" relationship between owner and resident.
By maintaining excellent relations with our residents and diligently caring for your property, we avoid many potential problems. Residents are informed of their responsibilities regarding your property and their contracts as we believe education is the best prevention. We will quickly and professionally settle any problems that may arise, with our clients' interest in mind.
If there is a problem, whether it is collecting rents or settling resident disputes, we will handle the situation appropriately. We are knowledgeable in the legal and contractual relationships involved in renting property. If necessary, we are prepared to make a court appearance.
We utilize quality control procedures and proven business practices in the management of your home. In addition to the routine management of your home we are on call 24 hours a day for emergencies.
Overview of Managing the Property
Collect all Rents
Late Notices
Early Terminations
Monthly Accounting
Resident Newsletters
24-Hour Emergency Line
Bounced Checks
Owner Newsletters
Routine Maintenance
Unauthorized Pets
All Charges Verified
Regular Inspections
Move-Out Inspections
Evictions
Neighbor Complaints
Quality Maintenance
+
To control quality, costs, and to manage the risk, we've established relationships with experienced contractors that perform quality work at preferred rates and have been thoroughly tested through years of service. Let our relationships save you money.
Quality maintenance personnel means work is completely in a timely fashion, at competitive rates without excess, while preserving the value of your investment. The actual maintenance expenses for the home are the responsibility of the homeowner. Every effort is made to control maintenance costs while maintaining the integrity and value of the property. Maintenance that is the resident's responsibility or fault is billed to the resident.
Quick Payments / Financial Reporting
+
Income proceeds are direct deposited twice a month: on the 10th for on-time payments and the 25th of the month for late payments and mid-month move-ins.
Online accounting is available at all times with access to invoice copies and advanced reporting features.
Management Commission
+
We're of firm belief that a good property manager is an integral part of your rental investment strategy and should help save you time and money through reduced vacancy rates, proper rents, time savings, and preservation of property value. With that in mind, we still believe it is our responsibility to have an organized, efficient work system that brings you the quality you deserve without wasteful spending and practices.
Property management is a very competitive business. Some property managers only offer a standard management service or "lease-up" service while we offer a full service solution taking care of everything from start to finish. There are different ways property managers can charge for services. It is important to ask what services are optional or available. Be sure to understand all possible charges other than a percentage of the rent.
Our fees are addressed completely in the property management agreement and are quite straightforward.
Rate Schedule
+
Rather than cheapen or limit our services to stay competitive, we develop efficiencies to improve our work system and offer full service management at very competitive rates. Service fees are computed as a percentage of the gross rents collected. Our fees range from between 6% and 9% of the monthly rent amount.
Advantages of working with Morgan Property Management
Industry expertise: We understand the industry and know how to stay ahead of the game. Our vacancy rates are consistently far better than the average while getting the best market rate without sacrificing quality of tenants.
Extensive marketing power and referral network: We attract the broadest and most qualified pool of prospective residents.
We're investors too: We can help determine rental rates BEFORE you buy and are conscious of being cost-effective in proper property preservation.
Skill in negotiations with residents: Potential residents must pass our rigorous screening process. We have the experience to locate the qualified resident and timely complete the best rental transaction.
Inquire About Our Services
Comprehensive understanding of the laws: State and Federal Housing Codes and Fair Housing Regulations.
Strong Lease and Work System: The Lease Agreement is an important part of protecting your investment both legally and in showing tenants what is clearly expected from the start. We even have a video presentation for new tenants to really drill the rules into memory.
Accurate accounting reports: We provide monthly itemized statements and year-end tax summaries. Rent proceeds are directly deposited to your account.
Property inspections: 12 exterior property surveys yearly. Preventative maintenance inspections available on semi-annual or quarterly basis for a nominal fee.
Enforcement of contractual compliance: We know the appropriate action for handling any problems that may arise, including non-payment or other violations of the rental agreement.
Proficiency in home maintenance: We can ensure that your property is well cared for and that appropriate and timely repairs are undertaken at a reasonable cost.
Peace of mind: The industry experts are on your team. Let us take the stress and worry out of owning rental property.
We're of firm belief that a good property manager is a valuable part of your rental investment strategy and should help save you time and money through reduced vacancy rates, proper rents, and preservation of property value. With that in mind, we still believe it is our responsibility to have an organized, efficient work system that brings you the quality you deserve without wasteful spending and practices. As such, our management rates are typically about 10% lower than other property managers with a similar level of service.
What sets us apart from the rest
+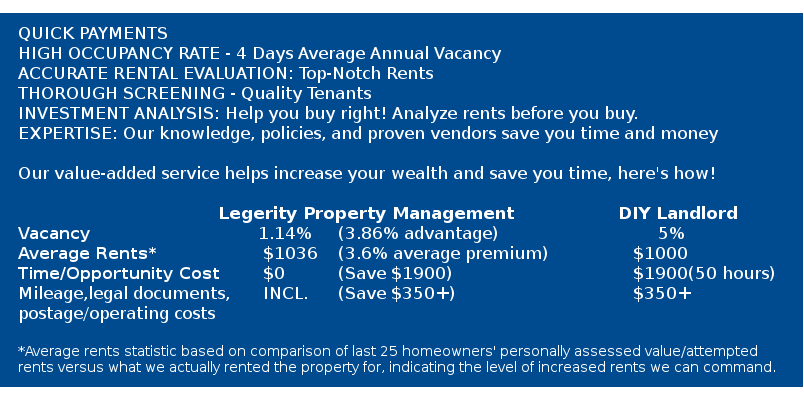 Nampa Area Information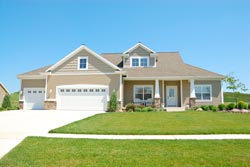 Nampa began its life in the early 1880s when the Oregon Short Line Railroad built a line from Granger, Wyoming, to Huntington, Oregon, which passed through Nampa.[9] More railroad lines sprang up running through Nampa, making it a very important railroad town. Alexander and Hannah Duffes established one of the town's first homesteads, eventually forming the Nampa Land and Improvement Company with the help of their friend and co-founder, James McGee. In spite of the name, many of the first settlers referred to the town as "New Jerusalem" because of the strong religious focus of its citizens. After only a year the town had grown from 15 homes to 50. As new amenities were added to the town, Nampa continued its growth and was incorporated in 1890.
Nampa has twenty-four parks, the largest of which is Lakeview Park. The Nampa Recreation Center, a 140,000-square-foot facility containing a six-pool aquatics center, three gymnasiums, racquetball courts, a walking/running track, a weight room and exercise equipment, a climbing wall, and a number of other activity areas, opened in 1994. Centennial Golf Course and Ridgecrest Golf Club are owned and operated by the City of Nampa. Source From Wikipedia